Ibanez Prestige RGD3127 - Roadster Orange Metallic Flat
7 String Electric Guitar
The RGD is Ibanez's ultimate metal machine. The demands of down-tuning require a specifically designed responsiveness not found in "normal" guitars. To optimize for the rich, desirable thickness of tone that down-tuning produces, we extended the neck by one inch to a scale. Longer-than standard yet not overly long. The neck is still considered a "fast" neck for speed soloing. Extra-deep cutaways grant comfortable access to the necks highest notes.
SPEC

neck type
Wizard-75pc Maple/Wenge neck w/KTS™ TITANIUM rods

top/back/body
Basswood body

fretboard
Birdseye MapleBlack dot inlay

fret
Jumbo fretsPrestige fret edge treatment

bridge
Lo-Pro Edge 7 tremolo bridge

neck pickup
DiMarzio® Fusion Edge (H) neck pickupPassive/Ceramic

bridge pickup
DiMarzio® Fusion Edge (H) bridge pickupPassive/Ceramic

factory tuning
1D, 2A, 3F, 4C, 5G, 6D, 7A

string gauge
.010/.013/.017/.026/.036/.046/.059

NECK DIMENSIONS

d : Thickness
21mm at 12F

SWITCHING SYSTEM

CONTROLS

OTHERS
Features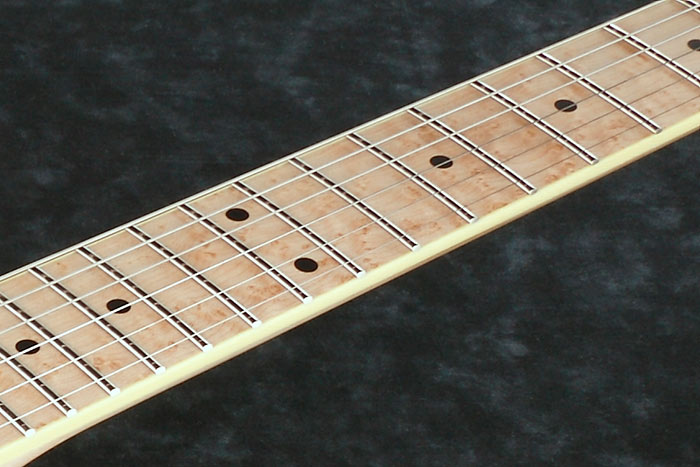 Birdseye Maple Fretboard
Birdseye Maple has a unique wood grain and features a well-balanced tonal character from low to high end.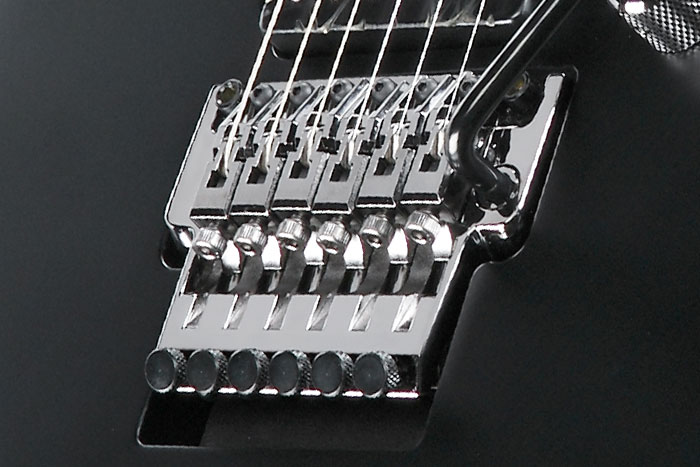 Lo-Pro Edge tremolo bridge
The legendary Lo-Pro Edge bridge offers maximum playing comfort with its streamlined profile and recessed fine tuners. Locking studs contribute to tuning stability.
Scoop Cut
Besides lightening the weight of the body, this bold horn cut provides full, comfortable access to the higher frets. The taper of these horns greatly improves player comfort at the upper end up the fretboard. These beveled edges are another of the many innovations that have come out of our relationships with Ibanez artists.
Wizard-7 Neck
Slim, fast and durable Wizard-7 5pc Maple/Wenge neck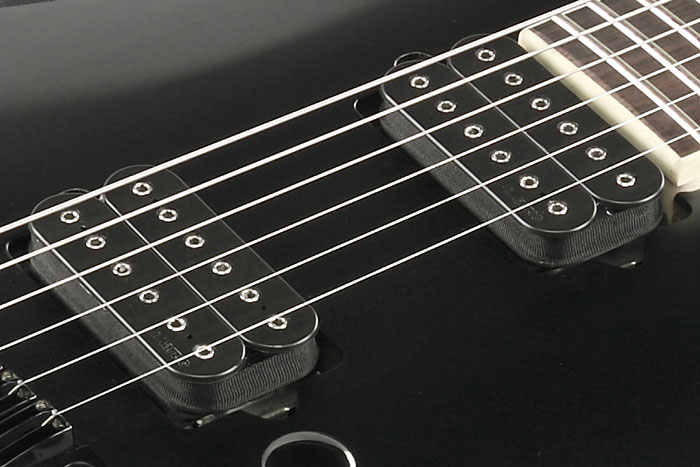 DiMarzio® Fusion Edge Pickups
Through close collaboration between Ibanez and DiMarzio® Fusion Edge pickups have been engineered to produce a powerful, distinctive tone with a crisp, cutting high end, and a tight, compressed bottom end, minus any muddy mid-range.