Steinberg Cubase Artist 10.5
Digital Audio Workstation
Cubase Artist offers a range of proven editing and sequencing tools based on the same core technologies used and appreciated by musicians around the world. With an easy-to-use interface, unsurpassed performance and inspiring instruments and effects, Cubase Artist remains unmatched in its price range. This Cubase version is simply the perfect choice for talented newcomers and seasoned musicians.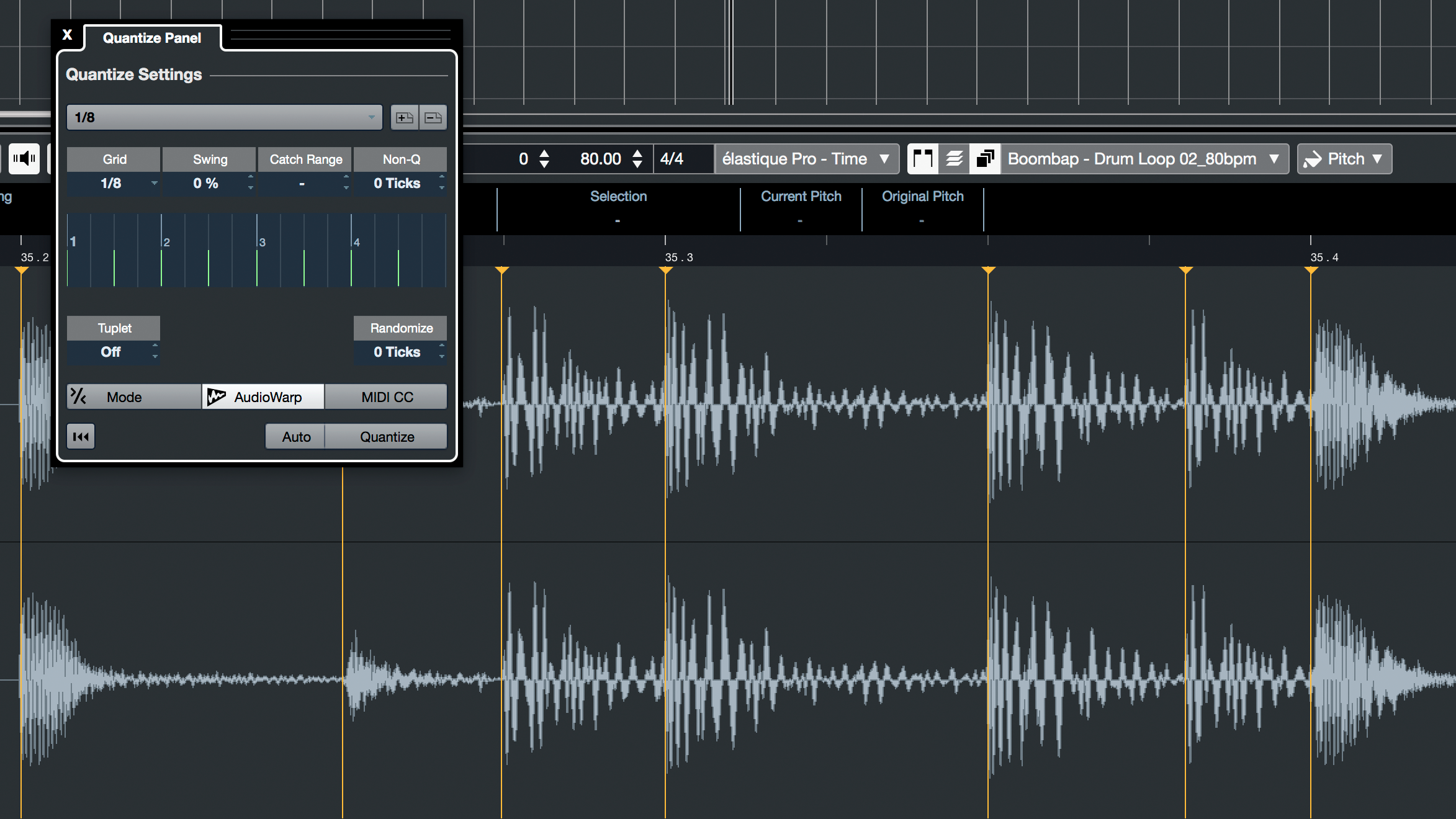 Audio Warp Quantize
Warp-quantize multiple audio tracks at once using the convenient Quantize panel. By creating warp markers straight from hitpoints, both single audio loops as well as the entire arrangement can be non-destructively quantized with a single mouse click — just like MIDI parts. Importantly, because the audio events are warped, rather than sliced, they automatically follow any tempo or pitch changes of your project, while remaining uncluttered for easy arrangement.
Channel Strip (Advanced)
The channel strip modules are the very heart of our exceptional sound. Carefully crafted in close collaboration with seasoned audio engineers who have many years of experience working with the best hardware mixing consoles, the channel strip modules are integrated into every channel and deliver the stunning, professional mixer quality essential for you to turn your music into fantastic productions.
Chord Pads
This inspiring tool helps you compose music quickly and creatively. It is very easy to get "stuck" when writing chord progressions but, with the fast and easy-to-use Chord Pads, fresh inspiration will always be close at hand. Jam with chords and patterns in real time and control multiple parameters to change chords as you go. The chord pads are playable via a MIDI controller and real-time parameters allow you to easily improvise chord performances by changing voicings, tensions and much more while you are letting the music and inspiration carry you along!
Comping
Create the perfect version of a recording from multiple takes. Few performers are skilled enough to always get it "right the first time"' in the recording environment, so comping is a vital part of the process. When recording several takes in a loop, Lanes are created instantly for each track being recorded. From here, it is very simple to create the perfect version. Simply swipe across the best parts and a master take containing all selected parts will be created automatically. In addition, the Comp tool offers extremely useful click-and-drag features for instant results.
MixConsole
Cubase's MixConsole excels not only in terms of usability, look and feel, but also sounds like a high end analog mixing console. Featuring a scalable, dedicated full-screen mode, the MixConsole is optimized for mouse-free operation - virtually all channel elements are accessible via the computer keyboard and screen reader software for the visually impaired. Featuring View Sets and Channel Zones for the utmost flexibility, 'one click' direct routing, customizable track icons, track notepad, drag-and-drop support and plug-in / channel search function, the it feels like having a state-of-the-art mixing console in your computer - and sounds like it, too.
Sampler Track
This creative tool will inspire many hours of creativity. Take any piece of audio and use it to create a Sampler Track. You can then play the sample chromatically, manipulate it with the on-board filters and controls, experimenting to come up with new and innovative ideas. Sampler Track delivers virtually limitless sonic interest, helping to generate unique sounds with your own, personal signature. To make it even better, it comes with Caleidoscope, a dedicated sample library with hundreds of samples and presets to get you started immediately.
Groove Agent SE
Possibly the most comprehensive drum production software instrument ever produced, Groove Agent features a huge library of stunning samples, grooves and patterns, as well as a full virtual mixer and FX suite for even more creative options. Groove Agent SE features an exceptionally powerful beat production toolkit, ready to help you create the best beats, whatever genre you're working in. Produce floor-shaking sounds and dancefloor-filling grooves with an array of incredible sample manipulation tools, FX, slice editors and much more. Thanks to its deep integration, you will be able to see the instruments mapped automatically as drum maps into the Drum Editor and Beat Designer.